CONSHOHOCKEN, PA EXPERT REMODELING CONTRACTORS FOR SOPHISTICATED DESIGN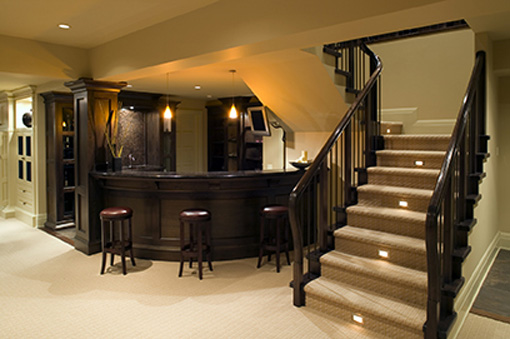 When you need to have changes done to your Conshohocken, Pennsylvania home, you may not know where to begin. It can be difficult to know when you haven't had renovations done before. Whether you have or not, our remodeling contractors can meet you where you are and help you however you need it.
Our thirty years of renovating experience has led us to serve many homeowners who have wanted all types of changes done to their homes. From installing home theatre equipment to building out an entirely new space, we can create whatever you dream of having for your home. If you're looking for a remodeling company who can do it all, you're looking for Daniel's Custom Building and Renovations!
Basement Renovations
Bathroom Remodeling
Kitchen Remodeling
Residential Elevator Installation
Additions
Custom Cabinetry
Custom Flooring Tile Installation
Electrical Services
Home Theatre Installation
Home Generator Installation
Plumbing Services
Basement Renovations in Conshohocken
Your empty, dark basement is waiting for you to bring some life into it. Remodeling this area of your home gives you additional living space without having to add on to your home. That's what makes basement finishing and remodeling so popular.
Families use this space for a number of reasons, but the one great thing about it is that it's so easy to change up when you outgrow or get tired of the design or function.
For instance, you may want to start out with an area that's a playroom for your young children. Then as they grow it can be changed to an entertainment room, even later you may want to take over the space to use for your own needs when they've left home. Any way you look at it, it's a lot of extra space you can make good use of.
Our expert technicians are all hired as staff, and we ensure they are all up to date on training and the latest techniques in their field. We provide them with all the equipment they need to give you only the best in quality renovations. You'll have our team of ready experts by your side from start to finish.
At Daniel's Custom Building and Renovations, we do it all. Our full line of remodeling services ensures your home will be complete and beautiful with the least amount of stress for you and your family.
Our technicians do everything they can to respect your home and cause the least amount of interruption to your lives as possible. Give us a call today, and we'll come out to assess your needs.