Welcome to Daniel's Custom Building & Renovations: A West Conshohocken Remodeling Contractor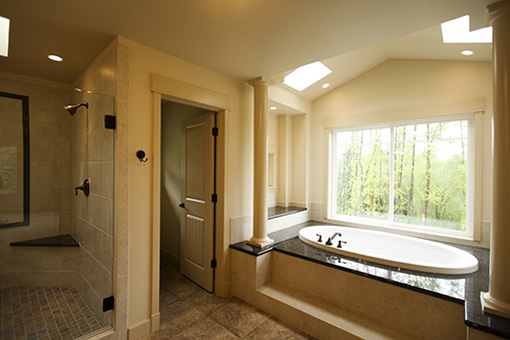 At Daniels Custom Building & Renovations, home renovations are all we do! Because of this, we can usually cut down on the time required to complete your remodeling or construction project because we do not hire sub-contractors. This also saves you considerable amounts of money! We are familiar with all of the the setbacks commonly related to West Conshohocken home remodeling and our years of experience help us keep your project moving forward.
Home remodeling can be a very messy and disruptive project. The length of the disruption can be as long as a month or more, even with a well thought out plan. Our expert remodeling contractors take pride in their ability to minimize the home down time and the disruption to your daily routine during this project. We also utilize the latest techniques for the maximum dust reduction and our jobsites have been described as being as clean and neat as possible.
Daniel's Custom Building and Renovations - West Conshohocken Bathroom Remodeling
If you are thinking of remodeling your bathroom, the first step is to create a good remodeling plan. Our West Conshohocken bathroom remodeling experts at Daniels Custom Building & Renovations can assist you in all phases of your bathroom renovations.
You might be considering only a partial remodel or update, focusing on bathroom fixtures or bathroom cabinets. Or, you might be considering a complete bathroom renovation. Whatever the case, our West Conshohocken bathroom remodeling contractors are here to help you with all phases of the remodeling process. We even have a custom cabinet craftsman who can design and build the perfect cabinet or storage closet to match your space requirements, style and functional needs.
If a complete West Conshohocken bathroom remodel is your desire, a picture is worth a thousand words. You should start with some ideas that reflect your particular style and choice in colors. A newly renovated bathroom can become a sanctuary for relaxation and contemplation. Think about the benefits of a jetted tub or shower with a complete body spray unit to soothe your soul and invigorate your body after a tough day.
West Conshohocken Custom Cabinetry
The skill and precision that a West Conshohocken carpenter can put into hand-crafted construction has never been and will never be matched by machines. Daniels Custom Building & Renovations employs a custom cabinet and furniture maker who can help Yardley and Bucks County homeowners with a variety of services from everyday needs and repairs to fulfilling your dreams of a beautiful custom-constructed bookcase, an entertainment center or a finely-appointed office.

We can also provide design ideas for updating the look of a kitchen, living room, dining room or bathroom by simply adding custom molding or trim, wainscoting or chair rails. Maybe an elegant column flanking your West Conshohocken doorway might be just the answer to a plain entranceway or doorway. For all your custom cabinetry and carpentry needs, you can count on Daniels Custom Building & Renovations for top quality craftsmanship. Contact us today for an estimate.
West Conshohocken Bath Remodel
West Conshohocken Kitchen Remodel
West Conshohocken Basement Remodeling
West Conshohocken Home Renovations

West Conshohocken Kitchen Remodeling
West Conshohocken General Contractor
West Conshohocken Bathroom Remodeling
West Conshohocken Kitchen Cabinets

West Conshohocken Bathroom Flooring
West Conshohocken Kitchen Flooring
West Conshohocken Electrical Services
West Conshohocken Custom Cabinets
West Conshohocken Basement Renovation
There are many ways to approach a basement remodeling project. The entire area can be left open or it can be divided into several rooms. It can be elegantly finished or it can be given a rustic design. The only limits are the boundaries of your imagination.
At Daniels Custom Building & Renovation, our West Conshohocken basement renovation contractors can help you with the design and building specifications of your basement remodeling project.
Before you get started on your basement remodeling project, there are a few things you should consider:
Ceiling Height - You must take into consideration the ceiling height available in your basement. In addition, visible duct work and/or a low ceiling level can have an impact on your design project. All of these features can be incorporated into your basement design by our design contractors who have years of experience in basement planning and design.

Lighting - Your lighting requirements will differ significantly depending on if you have a sunlight basement (meaning that at least one wall is above ground and the basement has windows that let in the sunlight), or one that is totally without windows. Daniels Custom Building & Renovations can provide the ideas and installation services for all of your electrical and lighting requirements.

Dampness - Dampness in a finished basement can open the door to all kinds of problems and must be addressed first and foremost. The dampness may make the area feel cooler or warmer than it should and more importantly, the dampness can breed mold and mildew which can be harmful to you and your family. This problem must be corrected before any renovation project can be started.

Concrete Floors - Concrete floors are cold, uncomfortable and can be hard on your legs, back and feet especially if you plan activities such as exercise or prolonged standing. There are many available options for flooring such as ceramic tile or carpet which can provide warmth and comfort for many years to come and our design specialists at Daniels Custom Building & Renovations will be happy to discuss these options as well as the cost features with you at your request.